The Meadows is Williston's premier neighborhood. Large lots, endless views, and quick access to the adjacent Eagle Ridge Golf Course make for an unmatched standard of living in northwest North Dakota.
Within the City limits, The Meadows is close to City services and shopping, while just far enough from noise and traffic.
By far the largest city in the Bakken Shale, Williston is home to oilfield, technology, and value-add companies, and with a second hospital group breaking ground on a new facility in 2022, a regional medical center.
In short, The Meadows is Williston at it's very best. There is no better address in northwest North Dakota.

Directions
Enter The Meadows on 70th Street East, west of Highway 2 and north of Spring Lake Park.
Features & Amenities
Large lots

Minimum house size requirement ensures continued high standards

Private cart path to Eagle Ridge Golf Course

Wide paved streets and sidewalks throughout

Swiss streetlights minimize light pollution

Body of rules (CCRs) prohibit cluttered yards and streets

Landscaping and irrigation of yards required

Safe, quiet and friendly environment

Williston School District 007
Smart Streetlights
Very special streetlights have been installed in The Meadows. The lights, a trial installation from Swiss company ESAVE AG (www.esave-usa.com) are the first "smart streetlights" in North Dakota. They can vary their brightness at different times at night to conserve energy and prolong the life of their LEDs. Motion sensors and a mesh network allowing the lights to communicate with each other enable the lights to dim during quiet hours when no one is on the street and brighten, along with other nearby lights, when a car passes by. Each light can also informpublic works when it isn't working or is due for service via email or text.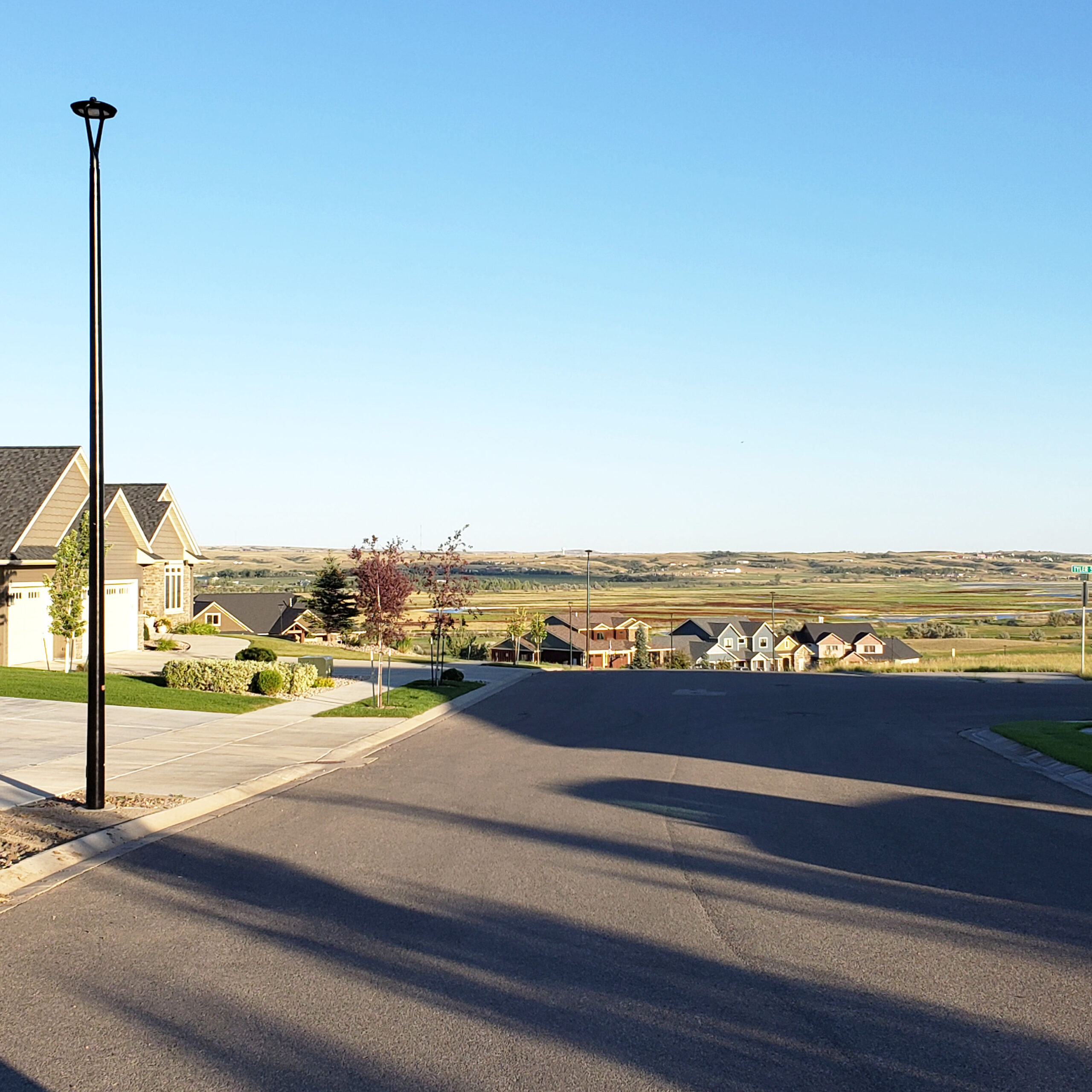 Homeowners in The Meadows are bound by these Covenants, Conditions & Restrictions. Many residents choose to live here because they know the current character of the neighborhood will be preserved.
New construction, or significant exterior modifications or additions, must be approved by the neighborhood's Architectural Control Committee before a Building Permit will be issued by the City. Reviewing these Guidelines will help avoid surprises or wasted time and money.
ACC Application for Residents
Please email this application form for any requests to the Architectural Control Committee to [email protected]
Frequently Asked Questions
Contact us! We look forward to hearing from you.